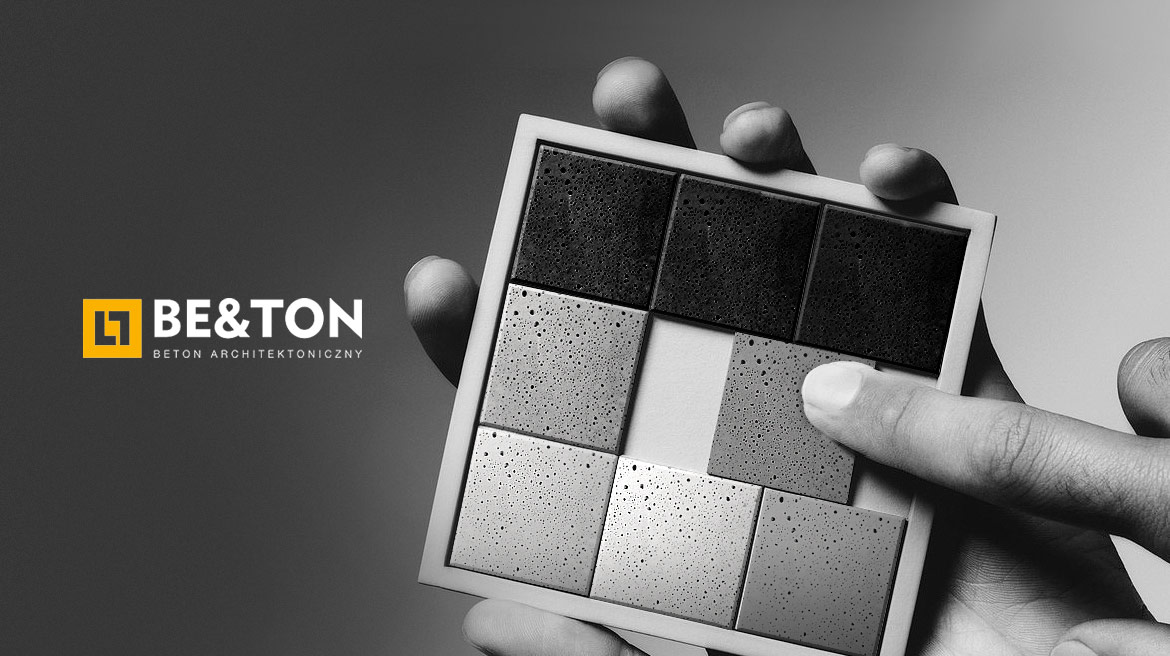 BE&TON –

BE IN TONE!
 
We created a brand BE & TON for those who want a modern design and creative architecture with the use of architectural concrete.
Name BE & TON is the result of playing with word "concrete", which in Polish sounds BETON. We want to be in tone in terms of concrete ?
 
Architectural concrete, until recently, seen only as a material for building, now seen as modern stone, is influenced by architectural fashions. Now, after years of disfavor, it returned to architecture as primary material, not only structural but above all as finr finishing. Raw colored, enriched with a variety of fillers gives unlimited possibilities of creation.
Currently concrete boldly enter living areas, combining the elegance and the austerity of industrial space. This is obtained thanks to the limitless possibilities of modeling and coloring the concrete while maintaining its severity. Using concrete in interior arrangement is the perfect way to create a modern interior with an industrial touch in the leading role.
NOBLE AND UNIQUE

AS NATURAL STONE
Concrete slabs and tiles BE&TON are manufactured by hand, therefore each item is unique and unrepeatable. It's visual effect, appearing after 24 hours from pouring isn't entirely predictable, and thus magic and original. Concrete slabs after taking out of the molds need to be stored min. 7 days, reaching the proper color and drawing.
Architectural concrete is characterized by a natural, obtained in the process of production and distribution of pits crayfish on a surface area of ​​each plate is unique element.
WHERE

TO USE?
Concrete slabs and tiles are used as:
Interior walls covering (living room, hall, stairway, bathroom or kitchen)
Buildings elevations
Fences
Fireplaces and other housing items.
Decorative concrete architectural spaces allows you to give a stylish, unconventional character.
WHY US?

WHY BE & TON?
For the production of our concrete panels we use high quality raw materials, derived exclusively from proven suppliers. We have 20years experience working with concrete products.
We are distinguished by attention to customer needs and competitive prices of our products.
UNUSUAL

MIX
BE&TON is not a simple mixture of cement. It is a natural, premium quality concrete GRC (Glassfibre Reinforced Concrete), concrete reinforced with appropriately selected blend of glass fibers. Slabs and tiles with architectural concrete BE&TON are suitable for indoor use, both as an accent as well as the dominant element. Additional impregnation allows their use in damp areas like the bathroom. Panels are made of real concrete strength class C30 / 37..
The main advantages of concrete GRC by BE & TON:
unique industrial visual effect of "real concrete"
extremely low weight of elements – a thickness of only 9 mm. The lightest boards on the market.
strength, durability
improved flexural and compressive
frost resistance
fire resistance
100% made of natural materials
suitable impregnation provides properties similar to glaze and terracotta
after impregnation – the effect of the "standing drop" that is hydrophobized by weight
safe for allergy sufferers
It allows both the inner wall and the facade to breathe while maintaining a favorable microclimate premises